< Back to the News
Public Newsletter (Spring 2022)
Public News
June 9, 2022
There is a renewables boom happening in Alberta's energy market that has flown under the radar – until recently.
The private renewables market in Alberta grew at an unprecedented rate in 2021 . Renewable energy purchasing deals signed to-date are supporting the development and construction of over $3.75 billion worth of new wind and solar energy investment in Alberta, creating nearly 4,500 jobs. At the Business Renewables Centre-Canada (BRCC), we help organizations learn how to purchase energy from renewable sources; even so, we didn't predict the sector would grow this fast.
Since last fall, the BRCC has hit many exciting targets and milestones:
And most recently, we hit our target to support contracting of 2 gigawatts of renewable energy by 2025 – three years early! 2 gigawatts is enough energy to power over 640,000 homes, and could cover all the homes in Calgary, Lethbridge, Medicine Hat and Red Deer combined.
All of this progress has kept our team busy and excited for the year to come. Read on for more details and what's next for BRCC!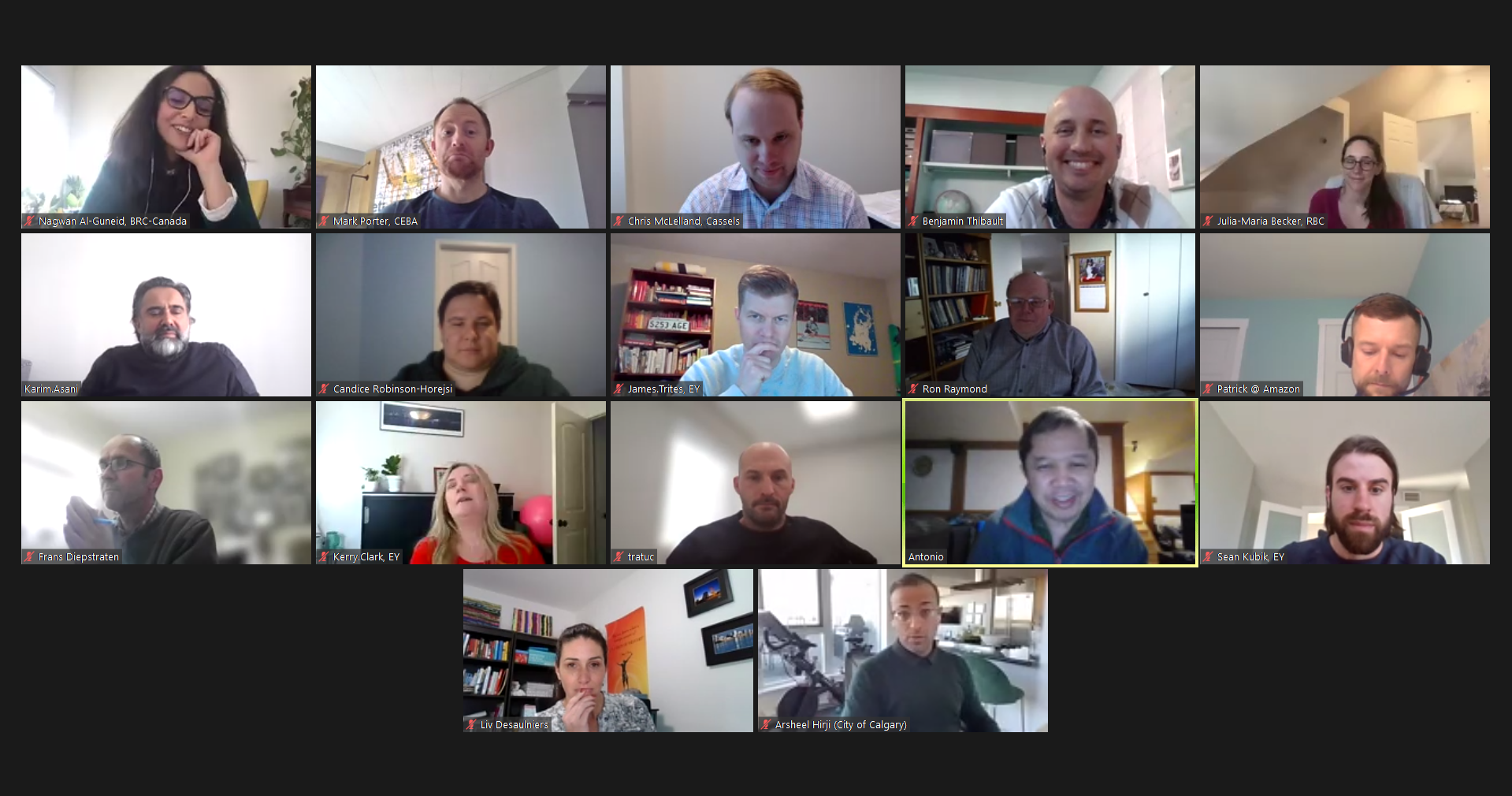 Attendees at the Buyers' Bootcamp. New renewable energy buyers learned from expert buyers, intermediaries, and industry experts in a highly interactive session. We look forward to running this again next year!
NEWS & UPDATES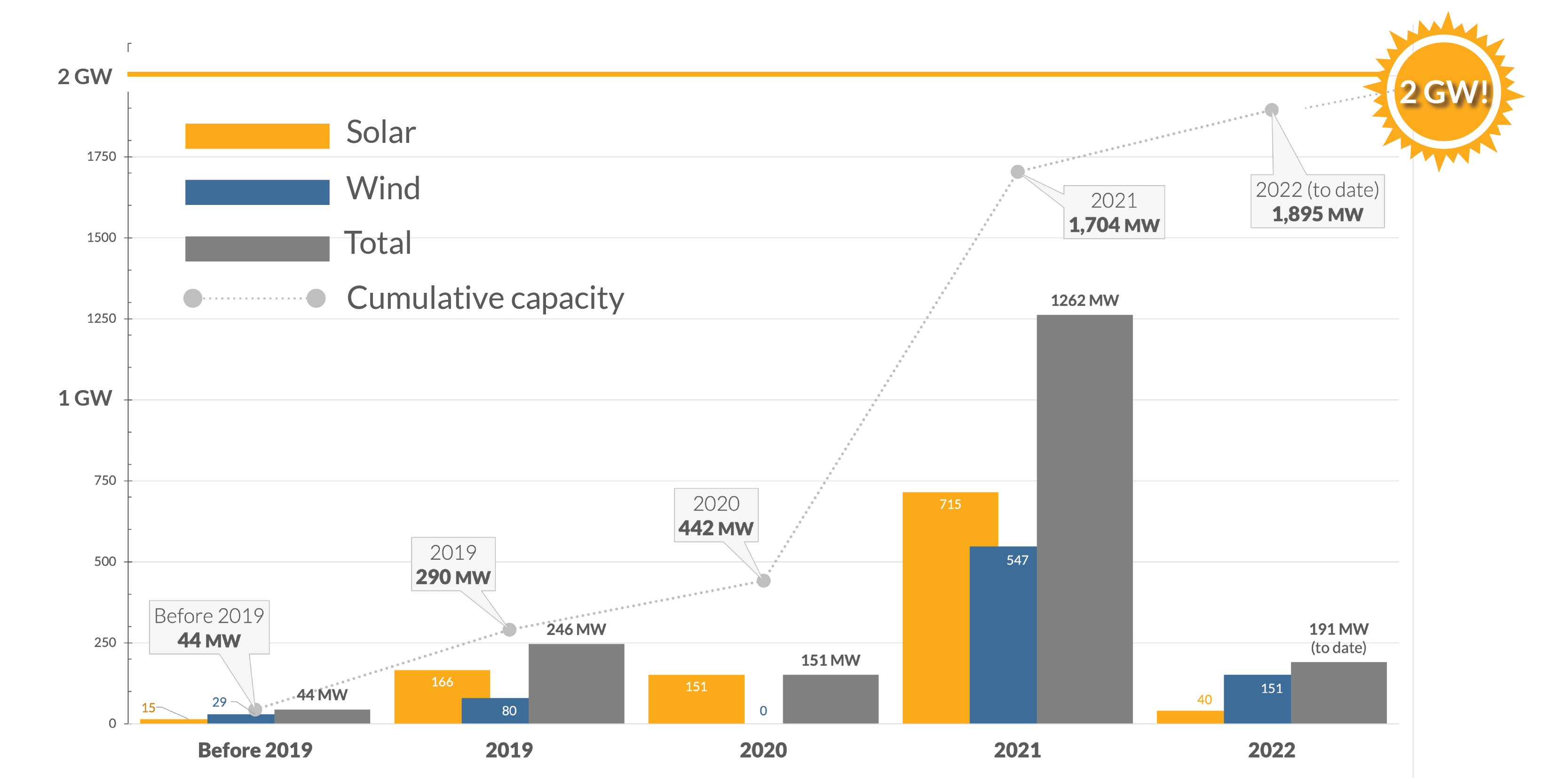 Unprecedented growth in Alberta's renewables market smashes business community targets —  When BRCC was founded in 2019, we set an ambitious goal of securing 2 gigawatts worth of renewable energy deals by 2025. Just a few months into 2022, with Capstone Infrastructure (a participant of BRCC) and Pembina Pipeline Corporation signing a new deal for 105 megawatts of wind power, we have hit that target three years ahead of schedule.
Federal funding through PrairiesCan enabled the launch of BRCC in 2019. With a new federal investment of $600,000 through PrairiesCan's Regional Innovation Ecosystem funding, the BRCC will be further scaled-up as an educational platform where corporations and institutions can learn, connect and receive guidance to purchase renewable energy directly from Alberta-based producers.
"Alberta has all the necessary natural resources to take hold of this great opportunity to grow its renewable energy sector, position itself as a hub for renewable energy projects, and create high quality jobs in communities across the province. Our government's collaboration with the Pembina Institute will help scale up the Business Renewables Centre-Canada and help create new opportunities for business, including women and Indigenous-led firms, so they can purchase and sell renewable energy, while contributing to Canada's drive to net-zero by 2050."

— The Honourable Daniel Vandal, Minister for PrairiesCan
What does this incredible pace of growth mean for the future of renewables in Canada? Read more here.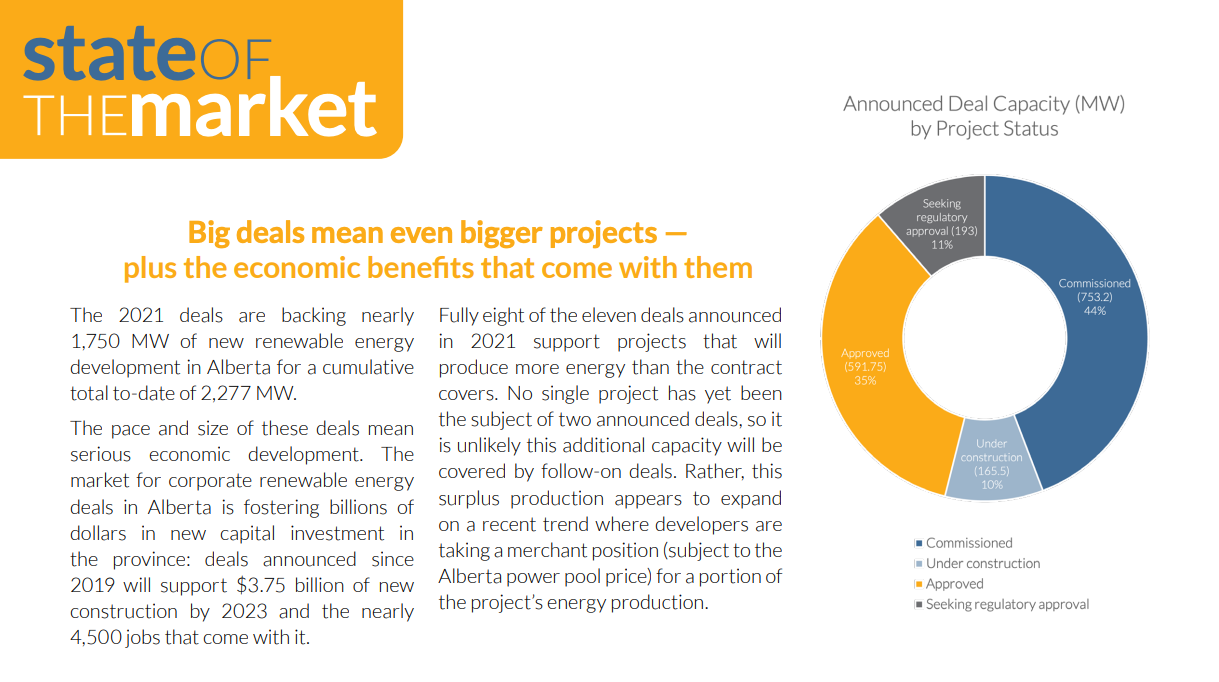 2021 signalled a corporate renewables boom in Alberta —  With 1,262 megawatts worth of renewable energy contracts announced, 2021 nearly quadrupled Alberta's cumulative total. Around half of renewable energy purchased was driven by company-led environmental targets as opposed to provincial regulatory requirements or carbon pricing, showing there is a robust voluntary market growing in Alberta.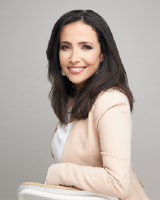 Get to Know BRC-Canada's new Director, Nagwan Al-Guneid — With over a decade of industry experience and a Masters in Sustainable Development from the University of Calgary, we are thrilled to have Nagwan on board as BRCC continues to play a leading role in Canada's net-zero emissions future. Read Nagwan's interview here.
Welcoming non-profits to BRCC —  Our new non-profit category officially launched last month, welcoming Indigenous organizations, First Nations, Métis and Inuit communities, government agencies, renewable energy co-ops, youth and student organizations, and post-secondary institutions. Know an organization we should connect with? Email our Analyst Calvin Ng at calvinn@businessrenewables.ca to introduce us!
RESOURCES
Online webinar videos — Find links to our most recent public webinars: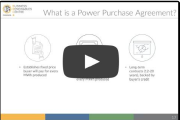 Meeting the PPA Moment in Alberta: This session focused on the power purchasing agreement (PPA) opportunity in the next 4-5 years and how to better position your organization to secure its electricity from renewable sources.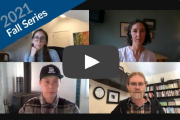 The "Social" in ESG: How the Canadian Renewables Business can Support Indigenous Partnerships: This session covered the concept and benefits of increased social justice and Indigenous participation in the renewables market and tangible examples of what it can look like in practice.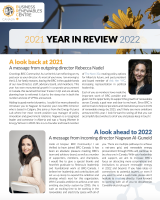 BRC-Canada Annual Report (2021) — This report documents the incredible growth of Canada's corporate renewables market in 2021, includes the exciting announcement of our new director, Nagwan Al-Guneid, and provides our team's expert insights on potential market trends for 2022.
BRC-CANADA IN THE NEWS
WELCOME NEW PARTICIPANTS
We are excited to have seven new companies joining BRCC since our last fall update, bringing our community up to 54 participating organizations! The new cohort includes a mix of renewable energy buyers, sellers, and intermediaries, as well as our first-ever cryptocurrency company, Hut 8 Mining.

Learn more about BRCC's community on our website by browsing our new community directory.
MARKET NEWS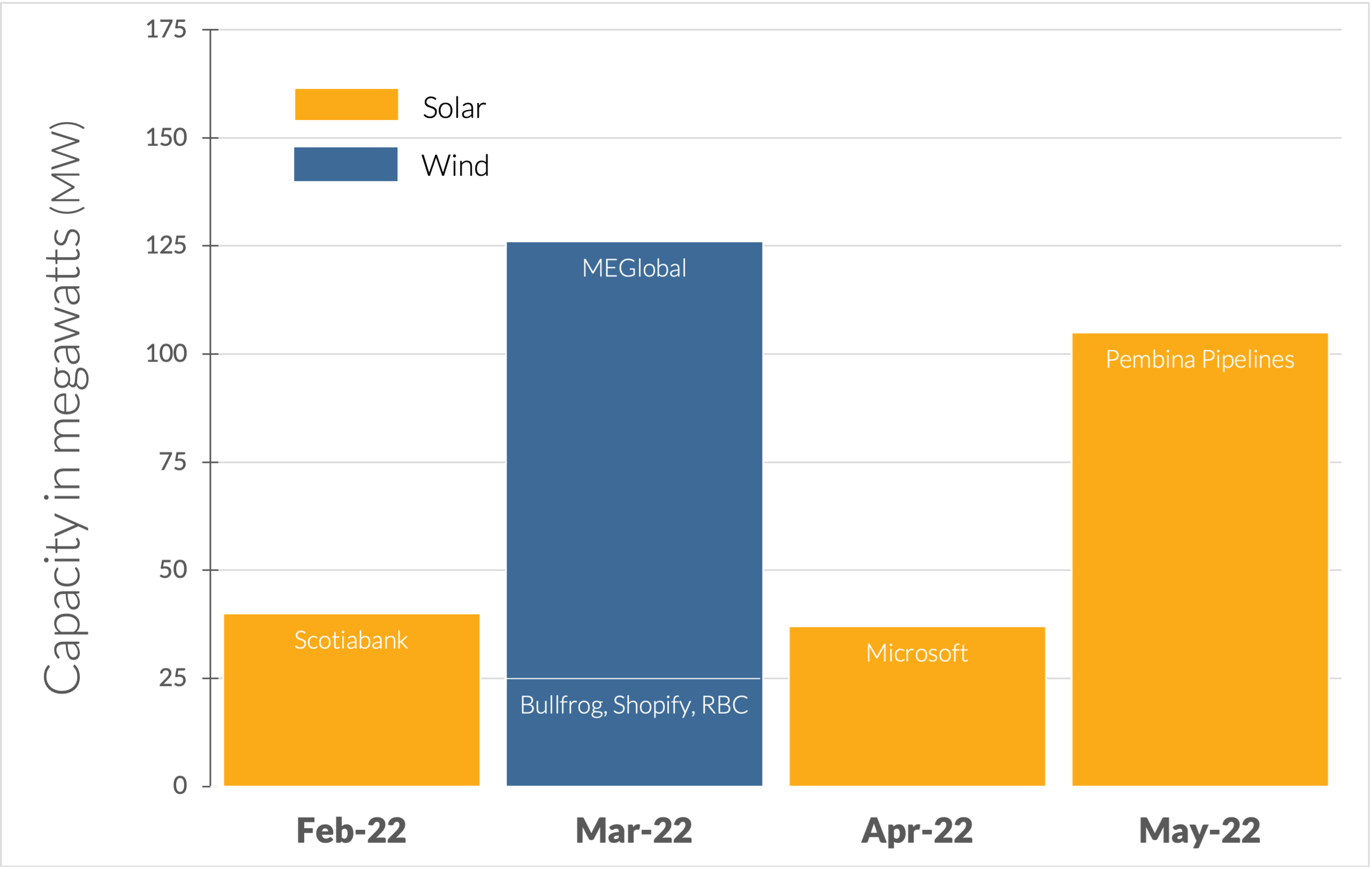 Five power purchase agreements in 2022 so far — These deals will add 333 megawatts of contracted wind and solar energy to Alberta's grid. Four out of five of the projects announced involve a BRCC participant, demonstrating that the BRCC community continues to play a leading role in driving new renewable projects.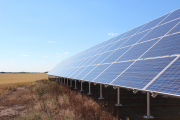 Welcome to the grid, Travers! — The Travers solar farm – a 400 MW project by BRCC participant Greengate Power (and supported by 375 MW from BRCC participant Amazon!) – connected to the grid on December 20th, 2021. When the project is completed in late 2022, it will become the largest photovoltaic power station in Canada with a total capacity of 465 MW. Congratulations to all involved in this milestone!
Solar Opportunities in Saskatchewan — In a move that will start to expand the private renewables market more in Canada, SaskPower has issued an Advance Notice for its forthcoming 100MW solar competition. An RFQ is anticipated to open by end of June, and the power procured is expected to serve a green tariff program SaskPower is developing which will allow large consumers in the province to purchase up to about 25% of their power needs from the new facility. The competition will require 10% Indigenous equity and the recipient will be required to use a site provided by SaskPower.
New Trend: Deal Stacking — For the first time since Alberta's private renewables market kicked off in 2016, we are now observing "deal stacking": multiple offtake deals being made on the same renewable energy project. Deal stacking has occurred twice in 2022, with the Rattlesnake Ridge and Whitla 2 wind projects both receiving new offtake agreements on top of their existing ones. While these are the first projects in Canada more than one offtake deal for the same project, we are likely to see more such "deal stacking" in months and years to come.
JOIN BRC-CANADA
BRC-Canada is a community where businesses can learn how to source renewable energy directly from developers. The community has more than 50 participants — and it's growing. BRC-Canada makes it easier for corporations to enter the renewable energy market by raising awareness and understanding about the procurement process and sharing lessons from active players. Our tools, resources and guidance help first-time buyers advance on the learning curve so they successfully complete their deals faster, easier, and more cost effectively.
To find out more about joining BRC-Canada and getting access to exclusive primers and guides, networking and training opportunities and ongoing market intelligence, fill out our online form or email info@businessrenewables.ca.