< Back to the News
Get to know BRC-Canada's new director, Nagwan Al-Guneid
Public News
January 20, 2022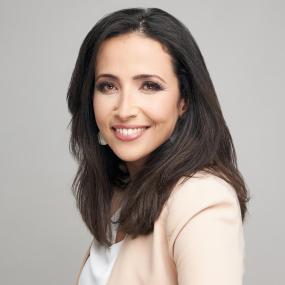 BRC-Canada sat down with our new director, Nagwan Al-Guneid, to learn more about her transition into the role and her thoughts on BRC-Canada's future in the renewable energy space. With over a decade of industry experience and a Masters in Sustainable Development from the University of Calgary, we are thrilled to have her on board as BRC-Canada continues to play a leading role in Canada's net-zero emissions future.
What drew you to the Director role here at BRC? 
It is such an exciting opportunity. This is a national organization, so you can be an organization in Vancouver, like TELUS for instance who have a virtual power purchase agreement here in Alberta. It is possible for our members to make an impact from anywhere in the country because of Alberta's unique deregulated market.
BRC-Canada is also meeting the moment. We are focused on addressing climate change and reducing emissions from the grid through corporate renewable procurement. It hits a lot of points for me. There was a time in my life when climate change was keeping me up at night. Waking up in the morning and knowing that I can make a change in the climate and energy world is extremely important to me. I look forward to learning from our members, working with our community, and expanding our ambitions.
How has your professional experience influenced your passion for renewable energy?
I've spent time in the oil and gas industry in Alberta, Europe, and the Middle East, so I had the opportunity to understand the corporate sustainability perspective, including big ESG goals and the way companies go about achieving them. I then joined the Energy Futures Lab, where it opened my eyes to finding system-level solutions for system-level problems. You might have the best low-emissions technology out there, but what do you do if you don't have the right policies and regulations for your technology, the industry isn't adopting it, and there's no public support? I carry corporate and systems thinking with me into the renewables space in order to reduce barriers and to accelerate renewable energy projects in Alberta and across Canada.
Someone recently said to me that a career is not an ascending line, but instead it is a series of interesting chapters. I can't help but feel that my new role with BRC-Canada will be an incredibly interesting chapter. 
Since starting as director in December, what are the biggest things you've learned so far? 
I've learned that there is a revolution happening in corporate renewable purchasing and that no one is talking about it! There is a huge potential for more institutions, corporations, and communities in Alberta to purchase renewable power. BRC-Canada also has the opportunity as an organization to drive the momentum and support more buyers, and buyers with big electricity loads, throughout their journey in purchasing renewable energy. It's an exciting time to be working in this sector and I'm looking forward to seeing how BRC-Canada can drive the momentum surrounding renewable energy projects across the country.
What do you think are the biggest opportunities for Canada's renewables industry in 2022 - and how will BRC-Canada be a part of that?
To answer the first part of that question, I think there's a window of opportunity for corporations and institutions to get into PPAs in the next few years. The pace and size of these deals bring about serious economic benefits. The market for corporate renewable energy deals in Alberta is supporting 3.7 billion dollars of construction by 2023, and nearly 4,500 jobs will come of that. So right there, we can see that so much is happening in this space.
BRC-Canada will definitely be a part of these opportunities. By working with organizations to assist them in purchasing renewable energy, our members will play an important role in decarbonizing the grid and making it emissions free by 2035.
What among BRC-Canada's accomplishments stand out to you? 
One important accomplishment is that 16 out of 22 deals total since the market kicked off in 2014 have included BRC members, and some of the prominent deals accomplished in Alberta were a result of buyers and developers meeting at BRC-Canada's events. I'm also blown away by BRC-Canada's community. There are so many incredible people doing amazing work in the renewable energy space. Our community is extremely passionate about finding solutions to create a low-emissions future.
How do you hope to help BRC-Canada build off these accomplishments? 
I would like to see BRC-Canada contribute to creating a more inclusive and equitable energy transition. So, for example, how does truth and reconciliation actually show up in our work? And how can our work contribute to economic reconciliation?
Moreover, the energy industry is one of the least accessible industries for women in the country. While a 2019 report by the International Renewable Energy Agency found that on a global scale, renewable energy employs a slightly higher percentage of women (32%) than the energy sector overall (22%), we still need to better understand the challenges and opportunities for women in the renewables sector in Canada. This is especially important given that the COVID-19 pandemic has disproportionally affected women – many have not recovered to the same degree as men in the last year.
We also want to see new industries purchasing renewable energy through PPAs. Traditionally, we've worked with oil and gas companies and banks, but in 2021 we were able to diversify BRC-Canada's membership significantly. We now have new members in several different sectors such as Starbucks, IBM and TELUS. We even have unexpected players like a digital currency miner, Hut 8, and a food distributor, Maple Leaf, joining and expressing interest in purchasing renewable energy. I'd like to see more growth, new sectors, and more diverse players join BRC-Canada in the future.
Can you expand on the truth and reconciliation piece and why it is an important focus for BRC-Canada?
Years ago, I remember reading a quote by the chair of the Truth and Reconciliation Commission Senator Murray Sinclair that stayed with me: "We have described for you a mountain, we have shown you the path to the top. We call upon you to do the climbing." Truth and reconciliation is hard work and we need to climb. When we look at Canada's energy system, it has been created with zero input from First Nations, Inuit, and Métis Peoples. With the energy transition unfolding, we now have an opportunity to do better, and to ensure this space becomes more inclusive and more equitable. At BRC-Canada, we don't have all the answers, but we know that we need to put the time and effort into building relationships with Indigenous leaders and communities to contribute to economic reconciliation.
What do you do when you're not hard at work and on Zoom calls?
I love taking advantage of the beautiful outdoors here in Alberta—from biking to walking to being in the mountains. It's a great way to spend time with my family.