< Back to the News
Spotlighting Canada's Renewable Energy Leaders: TELUS
Public News
August 3, 2022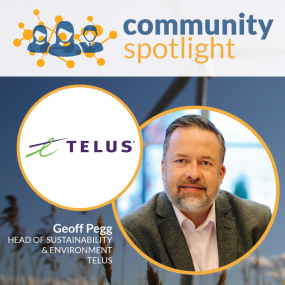 In BRC-Canada's fifth feature of our Spotlighting Canada's Renewable Energy Leaders series, Geoff Pegg, Head of Sustainability and Environment at TELUS, talks about how the organization has advocated for power purchase agreements and learned from the BRC-Canada community.
Why is being part of the renewable energy transition important to TELUS?
Generally, it fits into our sustainability strategy, and more specifically, our climate-related objectives. At TELUS, we've set goals to be carbon neutral by 2030 and we also have a target to have 100 per cent of our electricity requirements come from renewable or low-emitting energy sources by 2025. The investments that we've made through power purchase agreements (PPAs) in Alberta will help us reach these goals.
Further, our renewable energy deals make good financial sense. We have a certainty of energy supply and price. In fact, our total load demand in Alberta will be met with our investments in renewable energy. It's all pretty exciting.
We want to be authentic and transparent as we go about our organizational energy transition. TELUS has emerged as a leader in this space because of these efforts.
What role do you see TELUS playing in the transition in the next five years?
As TELUS has gained more experience purchasing renewable energy, I feel that we are able to provide the buyer's perspective to other organizations who are beginning to purchase renewable energy. We are always learning as an organization because there's so much to understand about the marketplace as it continues to evolve. As we learn, we have been more than happy to be advocates and share experiences with those who are new to the process.
What has your experience with BRC-Canada been like so far? 

BRC-Canada has been a huge resource for TELUS. We've had many opportunities to connect with like-minded peers, energy developers, and subject matter experts. It's been a great experience so far. We've also appreciated being a part of BRC-Canada's community, specifically as we all move towards shared goals. One goal that we had was to procure two gigawatts of renewable energy by 2025 – and we have hit that target this year.
Now, we're taking the time to identify what we will do next collectively. BRC-Canada has continued to thrive throughout the COVID-19 pandemic, which is a testament to the amazing work being done within the organization. It's safe to say that BRC-Canada has helped us along our renewable energy procurement journey and facilitated our work as advocates for these deals.
"BRC-Canada has continued to thrive throughout the COVID-19 pandemic, which is a testament to the amazing work being done within the organization."
Which of TELUS' accomplishments are you most proud of when it comes to reducing your carbon footprint? 

Long before we invested in renewable energy, we had climate goals that we set in 2011 that we planned to meet by 2020. We met these goals in early 2019, and we have continued to set science-based targets as an organization. Accomplishing our original goals and setting new goals has been incredible.
We were also ground breakers in the realm of PPAs here in Canada. Our deal with the Rattlesnake Ridge wind farm, involving Berkshire Hathaway, is quite impressive in terms of overall scale. We learned so much from that experience, as well as the other three PPAs that we've been able to sign off on. Executing four PPAs has been a privilege, and we've appreciated the support and guidance that we've received from the BRC-Canada community to make these deals happen.
As a leader in this space, what would you say to other corporate leaders who are considering purchasing renewable energy or getting started with a PPA?
Step forward and do it! There are lots of resources out there now to help with the renewable energy procurement process. The marketplace has tons of opportunities available, and the landscape will only continue to evolve. If you're interested in transitioning to renewable energy, just do it. I'm stealing the Nike slogan here, but it's really the best advice that I can give.