< Back to the News
Spotlighting Canada's Renewable Energy Leaders: Bullfrog Power
Public News
May 18, 2022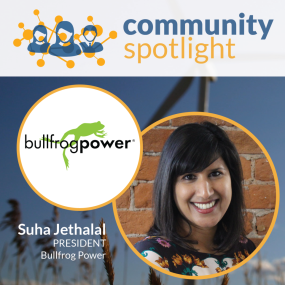 BRC-Canada sat down with one of our advisory board members, Suha Jethalal, President of Bullfrog Power, to discuss the organization's role in Canada's energy transition, the exciting world of power purchase agreements, and how other organizations can get involved with renewable energy purchasing.
Why is being part of the renewable energy transition important to Bullfrog Power? 

Bullfrog Power's mission and vision is to build a renewably powered future for Canadians. We do that by empowering businesses and individuals to choose green energy. We've seen how our community has driven demand for new renewable facilities like the Burdett and Yellow Lake Solar Facility and Ellershouse Wind Farm, and we're motivated to bring even more green energy sources online. This is the path forward to addressing climate change and creating a cleaner, healthier Canada.
What role do you see Bullfrog Power playing in the energy transition in the next five years?
We just signed our second power purchase agreement (PPA) with Shopify, RBC, and Berkshire Hathaway Energy Canada, and we intend to facilitate more PPAs in the coming years. These agreements are an effective and affordable way for organizations to procure green energy, shrink their carbon footprints, and help bring new renewable projects to the grid.
Our recent PPA is such an exciting deal because Bullfrog Power and our partners, RBC and Shopify, have agreed to purchase a combined 90,000 megawatt hours of energy per year from the upcoming Rattlesnake Ridge Wind Power Project. This is enough electricity to power 78,000 homes per year! The project will also inject C$56 million into the Canadian economy and provide an estimated 150 jobs at peak construction.
Why did Bullfrog Power join BRC-Canada? 

We joined BRC-Canada because our values and vision are highly aligned. BRC-Canada is working towards getting more PPA deals off the ground and providing the network, resources, and tools to make these deals happen. Bullfrog Power is also helping organizations leverage the environmental, financial, and brand benefits of PPAs through our power purchase agreement solutions. Thanks to BRC-Canada, we've been able to speak at webinars and network with other companies looking to take the next step forward in the renewable energy procurement process.
BRC-Canada has also provided tools and resources to our clients as references. PPAs are complex deals that require financial, legal, and renewable energy expertise, and these resources go a long way towards making these agreements more accessible.
Bullfrog wants to be a part of the energy transition and work with partners who share our goals. We want to add value wherever we can, and we feel that we've been able to add value in the Canadian renewable energy space through our participation in BRC-Canada.
"There are so many tools and resources available that can help organizations transition to renewable energy. It's our shared responsibility to take action now."
Along with PPAs, what opportunities does Bullfrog Power currently see in the Canadian renewable energy landscape? 

While PPAs will contribute greatly to a net-zero future, there are other ways to reduce carbon footprints, including our green electricity, green natural gas, and green fuel products. We're also looking at the electrification of transportation fleets. There's a lot of opportunity in this area.
Energy efficiency is another big opportunity. By reducing our energy consumption, we can reduce our reliance on fossil fuels and facilitate the renewable energy transition. Through our energy efficiency services, Bullfrog helps companies identify ways to reduce their energy usage and save money in the process. Once that first step has been taken, organizations can focus on greening the energy they can't reduce.
Which of Bullfrog Power's accomplishments are you most proud of when it comes to reducing your carbon footprint?
I would say that I'm most proud of our community's collective impact. We've reduced almost 2 million tonnes of carbon emissions thanks to our customers, partners, and suppliers. We work with a vibrant and dedicated community of people and organizations that have come together to shrink their carbon footprints. It's been incredible to witness!
As a leader in this space, what would you say to other corporate leaders who are considering purchasing renewable energy or getting started with a PPA?
I would encourage corporate leaders to lean on others, learn from them, and to not be afraid to take that next step forward. There are so many tools and resources available that can help organizations transition to renewable energy. It's our shared responsibility to take action now.