< Back to the News
Restore confidence: BRC-Canada advises AUC to minimize renewable energy inquiry impacts
Public News
August 21, 2023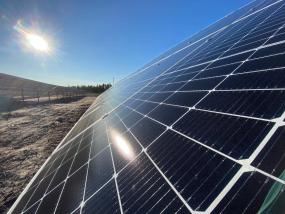 MEDIA RELEASE
The Business Renewables Centre-Canada is asking the Alberta Utilities Commission to apply as narrow a scope as possible to their pause on approvals as they conduct their seven-month inquiry.

Alberta's provincial government announced the inquiry and moratorium on new renewable energy development projects on August 3. There had been no prior consultation with affected corporations prior to the announcement. The move brought tremendous investment risk and uncertainty to the nation-leading renewable energy industry in Alberta.

"The AUC asked for feedback from stakeholders on which of three options they should use to implement the approval pause," said Jorden Dye, BRC-Canada's acting director. "The options range from bad to worse. BRC-Canada encourages the AUC to take every action available to restore some level of investor confidence. This means pausing approvals only."

The other options included: not accepting new applications or continuing with any processing during the pause period; or, not accepting new applications and only partially processing existing applications.

In addition, BRC-Canada worries that the Alberta government will backcast its regulatory reach and apply new rules to existing wind and solar farms. The AUC should make clear from the beginning of the inquiry that the policy recommendations resulting from the inquiry will not apply to solar and wind farms that are already operating, projects that have received approval, or projects that have already applied to the AUC.

In the meantime, we maintain that the best move for limiting investment risk and damage is for the government to remove the unnecessary and costly moratorium and utilize existing regulatory processes to address concerns.

Jorden Dye, acting director of the Business Renewables Centre-Canada, is available for comment.
Quotes
"The Minister of Affordability and Utilities has stated publicly that only 15 projects — those already in the AUC application process — are affected by the approvals pause. This clearly indicates the Minister's intent that only approvals should be paused.

"The government has stated clearly and repeatedly that the inquiry, and the associated pause, are meant to bring greater certainty for renewable energy investment. This can only be accomplished if the rules governing projects are not changed mid-development.

"Investors should not have to wait until the end of the inquiry and the subsequent government policy development processes to gain certainty and clarity around the projects that they have in-flight. Only with immediate, clear statements on the scope of application of forthcoming policy and regulatory changes can investor confidence begin to be restored in Alberta's electricity market and regulatory regime."

— Jorden Dye, acting director of the Business Renewables Centre-Canada
Quick facts
As of the second quarter of 2023, corporate renewable energy deals in Alberta have supported nearly $4.7 billion in new capital investment and provided thousands of jobs (since 2019).
Once all of the projects to be completed in Alberta by the end of 2023 are operating, they will support ongoing local economic activity, such as spending for operations and maintenance, including over $10 million per year in municipal property tax payments and another $10 million in annual lease payments to rural landowners.
There are currently 75 solar and 20 wind projects that have been announced or are in the pipeline for regulatory approval in Alberta, according to the latest Alberta Electric System Operator long-term adequacy quarterly report. These projects could be stalled entirely by this moratorium unless the AUC continues to accept applications.
Background
The Business Renewables Centre-Canada (BRC-Canada) exists to enable businesses and institutions to access renewable energy for their emissions reduction needs across Canada. This means working closely with buyers and developers of renewables and assisting them in shortening their learning curves as they figure out the best path to power purchase agreements. Our growing organization currently has about 60 participants from across all sectors of the Canadian economy.
-30-
Contact
Hanneke Brooymans
Senior Communications Lead, Pembina Institute
587-336-4396
Background
Submission: BRC-Canada submission to AUC on approvals pause
Statistics: See our Deal Tracker web page for quarterly updates on community benefits.
Fact sheet: Alberta's Corporate Renewables Procurement Advantage
Fact sheet: Enabling Corporate Renewable Energy Procurement Across Canada