< Back to the News
Deal Tracker Update - 2021 Q2
Public News
July 11, 2021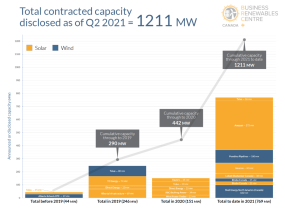 The BRC-Canada Deal Tracker 2021 Q2 Update is now available!
In April, BRC-Canada launched its inaugural Deal Tracker, Canada's first public curation capturing corporate procurement of renewable energy. At the time, deals announced in 2021 alone had already surpassed any previous year. Now, as a newly updated Deal Tracker is published at this year's halfway mark, that record has been smashed again.
Here are the highlights for this quarter:
This first Deal Tracker update adds another 500 MW of new corporate renewable energy deals, which surpasses all previous years combined, and brings the total at the halfway mark of 2021 to 769 MW.
Deals announced since the start of 2019 will foster around $2.5 billion CDN in new renewable energy investment and create more than 3,000 construction jobs in Alberta.
Renewable energy deals to fulfill corporate demands continue to be among the biggest drivers of new wind and solar energy development in Canada.
Solar growth in particular has skyrocketed: At of the start of 2019, Alberta was generating only 15 MW of utility-scale solar power. At the halfway mark in 2021, solar capacity now sits at 877 MW, almost 60 times what it was only three years ago.