Q1 2022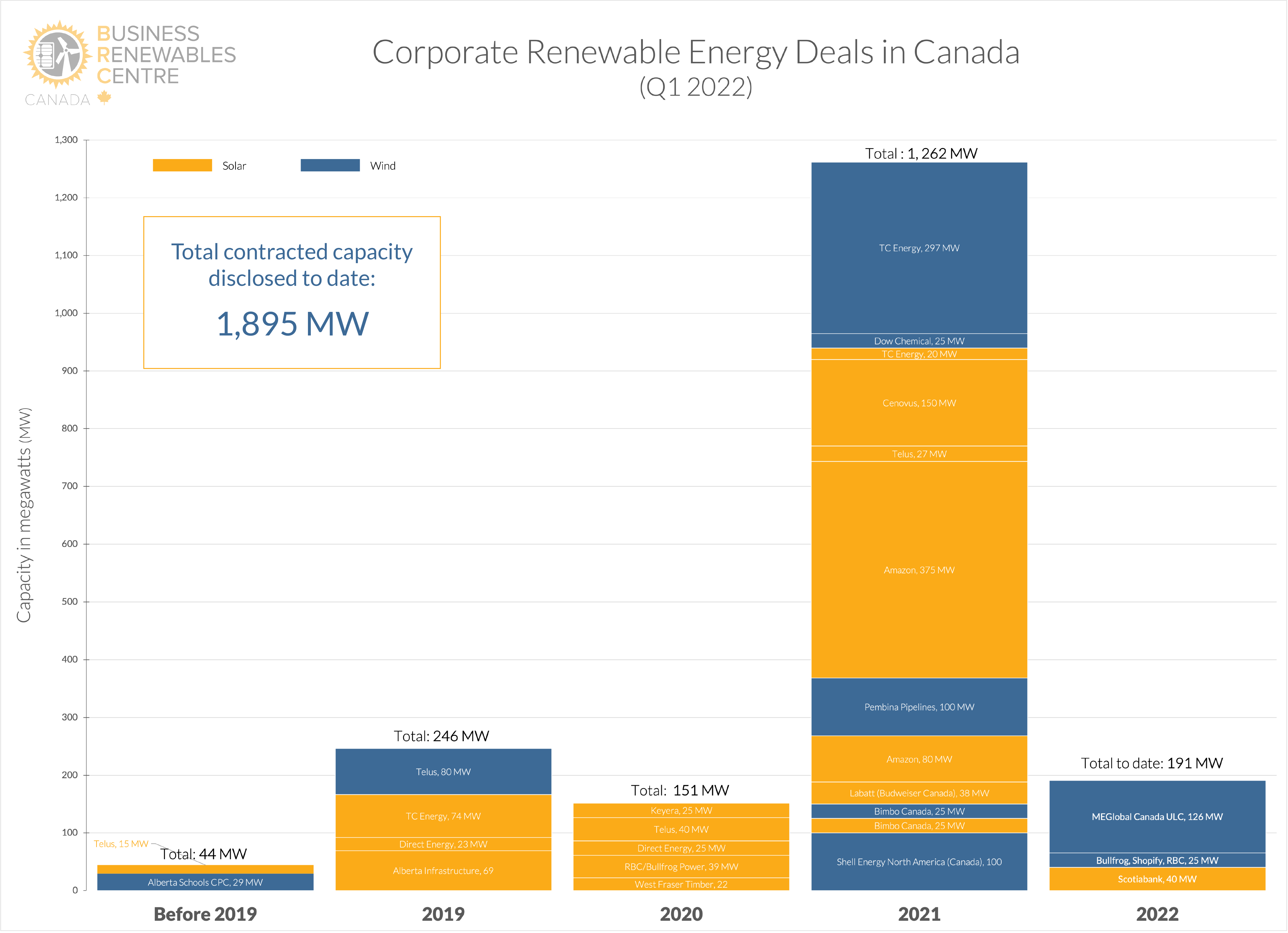 Highlights:
Brace for breach: We are starting the year off with three new deal announcements, bringing us closer to the 2 GW contracted PPA volume BRCC set out to achieve as a goal for 2025. We are now at a total of 1,895 MW of total contracted capacity of wind and solar deals.

New deals for announced projects: Both the Rattlesnake Ridge Wind and the Whitla Wind projects have announced their second deals, both deals involving BRCC members - Bullfrog Power, RBC, and Capital Power. While these are the first projects in Canada more than one offtake deal for the same project, we are likely to see more such "deal stacking" in months and years to come.
➡️ DOWNLOAD Q1 2022 DEAL TRACKER
---
Q4 2021
Highlights:
A record-setting year: 2021 was a year of records for renewable energy purchase agreements, with the largest number of deals announced(equalling all previous years combined) and by far the largest deal volume (nearly tripling all previous years combined).
Huge leaps in deal sizes: With a 375 MW solar deal and a 297 MW wind deal, 2021 dramatically increased the upper size limits of deals signed to-date. Combined, this energy capacity could power 254,000 homes - more than enough to cover all homes in Lethbridge, Red Deer, and Fort McMurray.
An increasing diversity of sectors: Seven new companies have joined the list of buyers, bringing the total to 16 unique commercial, industrial and institutional entities purchasing renewable energy in Alberta, from nine different economic sectors, including three newcomers in 2021: Food & Beverage, Technology, and Chemicals.
A banner year for new investments and job creation: The 22 deals to-date will cumulatively support 2,277 MW of new wind and solar development, bringing $3.75 billion of investment and 4,500 jobs to Alberta's economy.
Q3 2021
Highlights:
A record-setting wind deal: This quarter saw Alberta's largest purchase agreement for wind energy to date, a 15-year deal between EDP Renewables and TC Energy to build a 297 MW wind farm in Alberta.
New sector: This quarter welcomes the first ever buyer from the chemical manufacturing industry, as Dow Chemicals — a leading producer of plastics, chemical and agricultural products — inks a 15-year contract with Capital Power for 25 MW on its Whitla Wind 2 project in southeast Alberta.
Mix of technologies: We continue to see growth in both solar and wind off-take agreements, with 170 MW of new solar and 322 MW of new wind deals announced in the third quarter of 2021.
Upward trend trending ... upward! The corporate procurement agreements announced in Q3 of 2021 add an additional 492 MW of total contracted capacity of renewable electricity, more than all the deals through 2020 combined!
Q2 2021
Highlights:
This first Deal Tracker update adds another 500 MW of new corporate renewable energy deals, which surpasses all previous years combined, and brings the total at the halfway mark of 2021 to 769 MW.
Deals announced since the start of 2019 will foster around $2.5 billion CDN in new renewable energy investment and create more than 3,000 construction jobs in Alberta.
Renewable energy deals to fulfill corporate demands continue to be among the biggest drivers of new wind and solar energy development in Canada.
Solar growth in particular has skyrocketed: At of the start of 2019, Alberta was generating only 15 MW of utility-scale solar power. At the halfway mark in 2021, solar capacity now sits at 877 MW, almost 60 times what it was only three years ago.
Launch — April 2021 
Highlights:
Canada's first corporate renewables Deal Tracker shows that rapid growth is making large-scale commercial offtake agreements a key mechanism for procurement of renewable energy, and 2021 has already broken the record for most contracted capacity announced in a single year.
Deals announced since the start of 2019 are fostering around $1.3 billion CDN in new renewable energy investment in Alberta
Deals to buy renewable energy to supply corporate demand are now among the biggest drivers of new wind and solar energy development in Canada
Growth in solar projects in particular has skyrocketed. Deals announced since the start of 2019 have multiplied the amount of contracted, utility-scale solar in place in Alberta by 30-fold