< Back to the News
Spotlighting Canada's Renewable Energy Leaders: Power Advisory
Public News
June 9, 2022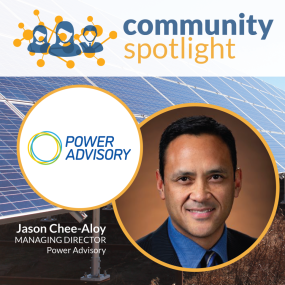 BRC-Canada advisory board member, Jason Chee-Aloy, Managing Director of Power Advisory, took the time to talk about how the BRC-Canada community has come together to advance Canada's renewable energy industry. This is BRC-Canada's second feature of our Spotlighting Canada's Renewable Energy Leaders series.
Why is being part of the renewable energy transition important to Power Advisory?
It's important for a couple reasons. To start, all electricity markets are going through a massive, inevitable change. Renewable energy technologies are advancing, and with that, costs associated with renewables are getting lower. Policies have also been created to further facilitate Canada's transition to renewable energy. As a result, customers are looking to get in and secure their renewable energy supply.
It's an exciting time for renewables, and that's why Power Advisory is not seeking to simply jump into the space, but why we want to emerge as a leader in this space. We're proud to be a founding community member of BRC-Canada, for instance.
What role do you see Power Advisory playing in the energy transition in the next five years?
We like to position ourselves as thought-leaders. We try to look ahead multiple years to understand where electricity markets will go and how they will transition to meet organizational goals and objectives. We are also in the middle of a lot of transactions, so we will continue to play a role in helping buyers and suppliers transact within renewable energy deals.
What opportunities does Power Advisory currently see in the Canadian renewable energy landscape? 

It's clear in Alberta that there have been a lot of opportunities to move from large emitting energy resources to low or zero-emitting resources. We also think there's a lot more to do in terms of building new wind and solar infrastructure. Alberta's deregulated market has facilitated growth in the renewables industry quite well, and we know that this growth will only continue.
I also know based on my work as an advisory board member for BRC-Canada that other provinces are looking at what is happening in Alberta, with the hope of replicating this work to a certain degree. So, that's something that we will continue to watch for.
"It's an exciting time for renewables, and that's why Power Advisory is not seeking to simply jump into the space, but why we want to emerge as a leader in this space."
Why did Power Advisory join BRC-Canada? 

We simply thought that this was the way of the future. I mean, Walter Gretzky said don't follow the puck, but skate to where the puck is going. Over the last 15 years, we've seen the renewable energy industry evolve in a multitude of ways. Governments created incentives for the development of solar and wind, and while that was happening, technological advances made renewable energy more cost effective. We are now at a point where renewable energy is cost competitive, and Alberta's market is responding well to that. Power Advisory believes that this is just the beginning, and BRC-Canada has helped us to stay on top of where the puck is going.
What has your experience with BRC-Canada been like so far?
It's been a very positive experience. The organization and the advisory board are all of like mind. BRC-Canada's community is diverse in terms of energy buyers, suppliers, and intermediaries; however, we all share the same vision as we work towards developing Canada's renewable energy sector. It's been great to work together on the same goals, objective, and purpose.
As a leader in this space, what would you say to other corporate leaders who are considering purchasing renewable energy or getting started with a PPA?
The market is evolving quickly. A lot of institutional investors and capital markets are now pouring billions of dollars globally into the energy transition. So, I would say that securing renewable energy just makes good corporate sense for a lot of companies because that's simply what their shareholders and customers want to see, not to mention the positive impact these activities have on the environment.