< Back to the News
Spotlighting Canada's Renewable Energy Leaders: Cassels
Public News
July 7, 2022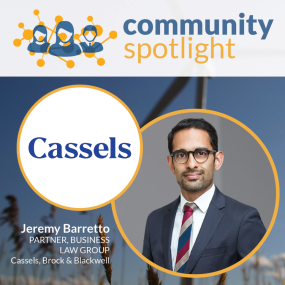 We sat down with BRC-Canada advisory board member Jeremy Barretto, a partner in the Business Law Group at Cassels, Brock, and Blackwell, to discuss the growing opportunities in Canada's renewable energy industry, including Indigenous ownership of renewable energy projects and Cassels' role as a thought-leader within the space.
Why is being part of the renewable energy transition important to Cassels?
It is important for Cassels to address our clients' most pressing risks, so that is why we work with our clients to reduce their carbon emissions. There will also be new opportunities for our clients. The energy transition will naturally create growing industries in renewables, storage, and nuclear. This is just another reason for Cassels to use our expertise to advise our clients on their decarbonization efforts.
What role do you see Cassels playing in the transition in the next five years?
Cassels wants to contribute to thought leadership within the Canadian renewable energy and energy transition spaces. We actively publish articles on new legal issues, opportunities, and government policies to better inform our clients on trends within the industry. An example of this is our recently published insights on the landscape of geothermal energy as a renewable energy resource. We hope that our publications drive important conversations surrounding renewable energy law and government policy. That being said, we also advise clients directly on any energy transition matters related to their businesses.
Can you expand on Cassels' environmental, social and governance (ESG) goals? 

Environmental, social, and governance is an important set of standards that is increasingly integral to a company's performance. We actively advise clients on their responsibilities for considering ESG goals within their operations. I'm proud to say that Cassels has significant expertise in Aboriginal law and how related Canadian legal requirements can fit into what's known internationally as an ESG framework.
"Cassels joined BRC-Canada because we believed in the opportunities that the community has provided for us. In 2019, I do not think anyone would have thought that we would have helped to create a $3 billion renewable energy industry."
What opportunities does Cassels currently see in the Canadian renewable energy landscape? 

The biggest opportunity that I would highlight is Indigenous ownership of renewable projects. To date, a lot of the renewable energy industry includes strong partnerships with Indigenous communities. However, moving forward, I believe that there are very exciting ownership and co-ownership models that can be explored. We are seeing this on a weekly basis. The other day, I spoke with an Indigenous community in B.C. that wants to host a solar project that they would take ownership of. I see this as a great opportunity for not only renewable energy developers, but also advancing reconciliation to share the benefits of renewable energy projects with Indigenous communities.
Canadian courts have also been looking at economic reconciliation, and positive economic impacts that renewable projects can have on Indigenous communities as being a beneficial reason for upholding project approvals, or considering them. This is an interesting trend, because not only are businesses understanding the importance of Indigenous ownership, but the courts are understanding the benefits of these partnerships too.
Why did Cassels join BRC-Canada?
Cassels joined BRC-Canada because we believe in the opportunities that the community has provided for us. In 2019, I do not think anyone would have thought that we would have helped to create a $3 billion renewable energy industry. This is the approximate amount of corporate and governmental renewable energy deals that have been tracked by BRC-Canada. It was clear to us from the start that Canada, specifically Alberta, was ripe for investment in renewable energy, and we are thrilled that this has become a reality.
What has your experience with BRC-Canada been like so far?
It's been a great experience so far. I would encourage any business in Canada that consumes electricity, generates electricity, or is involved in an advisory capacity (such as a law firm or accounting company) to consider joining BRC-Canada. BRC-Canada is a forum where companies can share best practices in a non-competitive environment. I would also highlight that we have developed a number of tools, free to all those within the BRC-Canada community, that have ultimately reduced costs of entering into power purchase agreements (PPAs). This has allowed renewable energy deals to flourish over recent years.
As a leader in this space, what would you say to other corporate leaders who are considering purchasing renewable energy or getting started with a PPA?
There's no better time to start than now! This is a great opportunity to lock in low renewable energy rates for the long term. Investors and board members will also come to expect an organization to have a credible plan to reduce carbon emissions. Entering into contracts for renewable energy is a great tool in your toolbox to do that. I always say, imagine a day when your closest competitor announces one of these deals; you will have wanted to at least started on your own. This is the time to get up to speed!