< Back to the News
Spotlighting Canada's Renewable Energy Leaders: BluEarth Renewables
Public News
June 22, 2022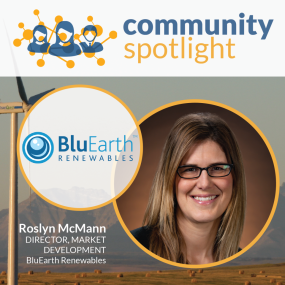 Roslyn McMann is the Director, Market Development with BluEarth Renewables and an advisory board member of BRC-Canada. In this third feature of our Spotlighting Canada's Renewable Energy Leaders series, Roslyn highlights BluEarth's role in helping to develop Canada's clean energy industry.
What opportunities does BluEarth Renewables currently see in the Canadian renewable energy landscape?
The last few years in Alberta have been incredibly successful for BluEarth. We've constructed five new solar facilities and in April, we started construction on our largest wind facility to date, which has a power purchase agreement (PPA) with Shell Energy North America. With these projects, BluEarth invested a total of $500 million, which shows that Alberta attracts a great deal of investment. Alberta has a unique, deregulated market and an established carbon pricing regime, meaning buyers and sellers can transact easily. As a result, there will continue to be opportunity for renewable energy deals in Alberta.
In Ontario, we're seeing an emerging supply need in terms of new energy and capacity. At the same time, many municipalities in Ontario have called for a moratorium on new natural gas generating stations, and Ontario is exploring a feasible pathway to decarbonization of the electricity sector. BluEarth is monitoring this dynamic environment in Ontario, and we are hopeful that the growing supply gap will provide opportunities for us to invest further in the province.
Looking across Canada, it will be interesting to observe how provinces adapt to the federal government's commitment to a 100 per cent net-zero grid by 2035, as well as the federal government's consultation on the Clean Energy Standard. BluEarth's renewable facilities can help to reach net-zero targets.
Why did BluEarth Renewables join BRC-Canada?
BluEarth Renewables tapped into Alberta's deregulated market back in 2015, with the first corporate PPA in Alberta on our Bull Creek Wind Facility, which is a 29-megawatt wind facility near Provost, Alberta. The facility has 26 different power purchase agreements with Alberta school boards. These deals showed us that, with the open electricity market, corporate power agreements were possible and could work quite well.
This Alberta experience was pivotal for BluEarth to see and understand the opportunity for buyer-driven renewable energy procurement and how BRC-Canada's vision of building a community of buyers could positively impact Canada's renewable energy industry. We're extremely proud to be a founding participant of BRC-Canada and see a real opportunity for the BRCC community to use our collective voice and experience to help open new markets in Canada to allow buyers and sellers to transact.
What has your experience with BRC-Canada been like so far? 

Our experience has been great! BRC-Canada creates a safe space for energy buyers to ask questions about PPAs. BRC-Canada has sessions that are tailored for new buyers, who are just beginning their journey towards their renewable energy targets, as well as for experienced buyers, who can offer advice and wisdom to the entire BRC-Canada community. It's a very welcoming environment.
"BRC-Canada sessions are tailored for new buyers, who are just beginning their journey towards their renewable energy targets, and experienced buyers, who can offer advice and wisdom to the entire BRC-Canada community. It's a very welcoming environment."
Which of BluEarth Renewables' accomplishments are you most proud of it when it comes to reducing your carbon footprint? 

BluEarth is most proud of our pace of growth of installed renewables facilities. We've invested almost $2 billion within the industry, built out over 600 megawatts of operating facilities, and grown our team to 130 people! I'm also proud of our history of developing partnerships with local First Nations on 10 of our projects, which include opportunities for jobs, training, and education for local First Nation members. These types of partnerships are core to our business, and I hope we can build on this moving forward.
As a leader in this space, what would you say to other corporate leaders who are considering purchasing renewable energy or getting started with a PPA?
I would say join BRC-Canada! BRC-Canada has created a community that seeks to educate buyers and provide insights into Canada's renewable energy industry. If you are a corporate leader looking to begin your renewable energy journey, BRC-Canada has created a great environment for newcomers. Be a part of the discussions with other industry members, learn from the success of the Clean Energy Buyers'Association (CEBA) in the U.S., and don't be afraid to ask questions – I ask them all the time!