< Back to the News
Edison Energy: Renewable energy developers eye Canada's high-emitting and hydro-heavy provinces
Public News
June 20, 2022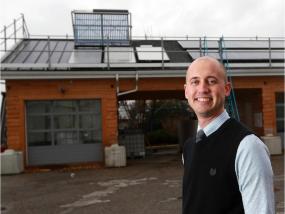 By Elana Knopp, Senior Content Writer, Edison Energy
In this last of a two-part series, Benjamin Thibault, a Canada-based energy policy and regulatory expert, discusses emerging markets for renewable energy development across Canada's provinces. Thibault is a policy advisor for BRC-Canada. Click here to read the first part of the conversation with Benjamin.
---
Alberta became the first Canadian province to deregulate its energy market with the passage of the Electric Utilities Act, which took effect in 1996. In 2003, Alberta's entire deregulated electricity market came under the management of the Alberta Electric System Operator (AESO), which was tasked with promoting a fair, efficient, and openly competitive market for electricity.
Market deregulation has helped propel Alberta to the top spot in Canada when it comes to renewable energy deals. In 2021, the province had a record year for renewable energy purchase agreements, with the largest number of deals announced – nearly tripling all previous years combined – according to the Business Renewables Centre-Canada.
"Alberta's market was originally designed to accommodate innovation and new generation sources," Thibault said. "Because of that, Alberta has such a big head start on other provinces. I think other provinces, particularly emitting provinces, are recognizing this opportunity and turning their attention to it for a variety of reasons. But they're held into the system that they currently have, which is centrally operated, so they have to wait for that centrally operated procurement and for their decision-making processes to decide they want solar or wind. And by the time they work through those processes, Alberta has just announced another 1,700 MW in offtake agreements."
But things are starting to change in Canada's regulated markets, driven by demand from prospective buyers who want to add to their operations or invest more in other provinces.
"Their financial backers are saying, 'We're looking at your Scope 2 emissions,'" Thibault said. "Those players are definitely starting to bend the ear of government, system operators, and crown corporations within those provinces. They have their operations there, but they are looking to expand their operations somewhere in North America and they want their investments to go to places where they have an opportunity to bring down their Scope 2 emissions. They'd like for their generation to be as close to their load as possible because that's part of the transition story you're seeing in the U.S.'"
With buyers aiming to get their existing operations to net zero, Alberta currently presents Canada's most attractive option due to the competitive pricing of renewable energy, making corporate targets to reach 100 percent renewables much easier—and cheaper—to achieve.
Thibault cites other critical factors that have pushed Alberta to the forefront of Canada's renewable energy sector.
"We have a market structure that enables this development because it accommodates the market tendency to find innovation to bring low cost, and that's really opened the market to a lot of renewable energy," he said. "But putting that solely on the energy market would be missing a part of the story, which is that Alberta had a very stable, established industrial carbon pricing system that creates a secondary commodity that these projects are able to generate into a compliance market."
Canada allows provinces and territories to implement their own carbon pricing system – as long as they align with minimum national stringency standards, or 'benchmark' criteria.
Alberta was Canada's first adopter of a carbon price in 2007, implementing the Specified Gas Emitters Regulation (SGER) to price carbon pollution. The program priced pollution from large emitters in the province and used the resulting revenue for investments in low-carbon technologies.
"Alberta's a very vibrant renewable energy offset market right now because the environmental attributes are both driven by the compliance market or the voluntary market," Thibault said. "Developers and investors are able to bank on it and know that it's happening, and that's a crucial part of what is driving development here."
Other provinces to watch include Nova Scotia, which recently launched a subscription-based green tariff program similar to the programs in U.S. states with vertically integrated utilities, and Saskatchewan and New Brunswick, which have shown interest in launching similar programs.
"Renewable energy developers definitely have their eyes set on the provinces that need to reduce emissions," Thibault said. "I think that a lot of developers from around the world do follow closely and pursue project development in jurisdictions in Canada with emitting grids. You look at Alberta because it's open to you in terms of open access and you can make deals with other offtakers."
---
Stay tuned for Edison Energy's next instalment in its series with BRC-Canada! Check out additional conversations with leading experts from across the industry in Edison Energy's Visionary Voices: Perspectives in Energy Series.