< Back to the News
Deal Tracker Update - 2021 Q4
Public News
January 12, 2022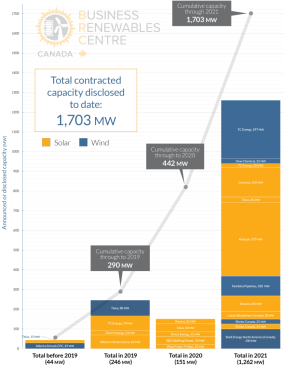 The BRC-Canada Deal Tracker is a one-stop shop to visualize publicly disclosed corporate and institutional deals for Canadian renewable energy projects. Here are the highlights this past quarter (Q4 2021) and a reflection on this record-setting year.
A record-setting year: 2021 was a year of records for renewable energy purchase agreements, with the largest number of deals announced (equalling all previous years combined) and by far the largest deal volume (nearly tripling all previous years combined).
Huge leaps in deal sizes: With a 375 MW solar deal and a 297 MW wind deal, 2021 dramatically increased the upper size limits of deals signed to-date. Combined, this energy capacity could power 254,000 homes - more than enough to cover all homes in Lethbridge, Red Deer, and Fort McMurray.
An increasing diversity of sectors: Seven new companies have joined the list of buyers, bringing the total to 16 unique commercial, industrial and institutional entities purchasing renewable energy in Alberta, from nine different economic sectors, including three newcomers in 2021: Food & Beverage, Technology, and Chemicals.
A banner year for new investments and job creation: The 22 deals to-date will cumulatively support 2,277 MW of new wind and solar development, bringing $3.75 billion of investment and 4,500 jobs to Alberta's economy.