< Back to the News
Deal Tracker Update - 2021 Q3
Public News
October 1, 2021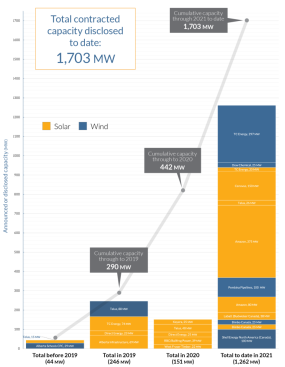 The BRC-Canada Deal Tracker is a one-stop shop to visualize publicly disclosed corporate and institutional deals for Canadian renewable energy projects. Here are the highlights this quarter (Q3 2021):
A record-setting wind deal: This quarter saw Alberta's largest purchase agreement for wind energy to date, a 15-year deal between EDP Renewables and TC Energy to build a 297 MW wind farm in Alberta.
New sector: This quarter welcomes the first ever buyer from the chemical manufacturing industry, as Dow Chemicals — a leading producer of plastics, chemical and agricultural products — inks a 15-year contract with Capital Power for 25 MW on its Whitla Wind 2 project in southeast Alberta.
Mix of technologies: We continue to see growth in both solar and wind off-take agreements, with 170 MW of new solar and 322 MW of new wind deals announced in the third quarter of 2021.
Upward trend trending ... upward! The corporate procurement agreements announced in Q3 of 2021 add an additional 492 MW of total contracted capacity of renewable electricity, more than all the deals through 2020 combined!