< Back to the News
BRC-Canada's inaugural deal tracker is here!
Deal tracker highlights growing trend for buying power directly from developers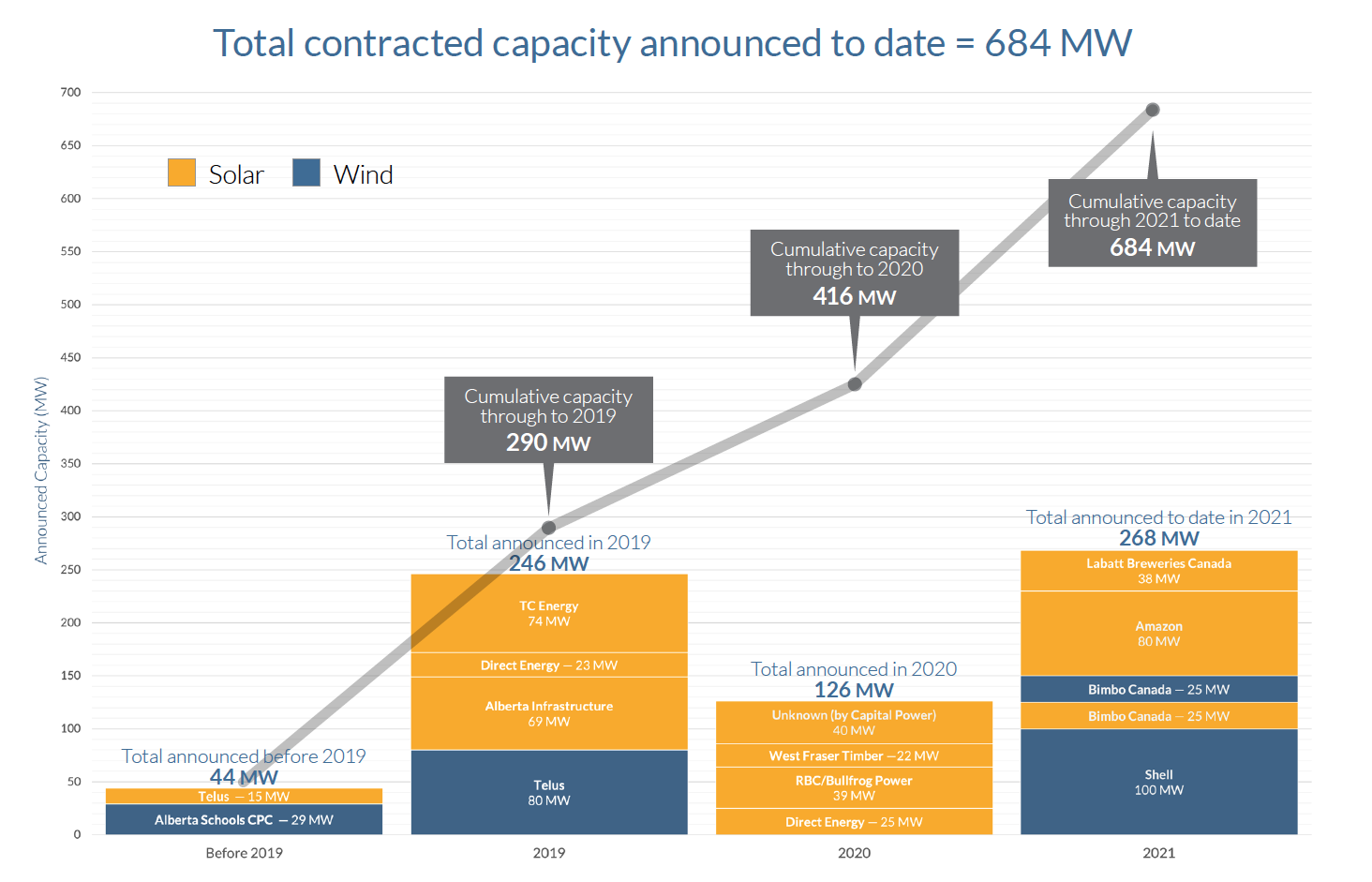 The Business Renewables Centre Canada is pleased to release its inaugural corporate renewable energy deal tracking tool.
The BRC-Canada Deal Tracker, which will be updated quarterly in the future, is the first public curation of announced corporate and institutional deals for renewable energy projects in Canada.
Deals to buy renewable energy to supply corporate demand are now among the biggest drivers of new wind and solar energy development in Canada and 2021 is already a record-breaking year for new corporate renewable energy procurement. With an influx of new deals in April, agreements announced to date have a total cumulative capacity of 684 MW—the equivalent of powering almost 225,000 homes each year, or half of Calgary's households. More than a third of these deals have been announced this year alone, pushing new investment in Alberta past $1 billion CDN.
The BRC-Canada Deal Tracker demonstrates a growing trend in Canada for corporations and institutions to purchase renewable energy directly from developers, called "non-utility procurement."
Alberta is the ideal place for such deals because of its deregulated market, which provides buyers the flexibility to negotiate contracts directly with developers. Every deal announced to date is for a project located—or which will be built—in Alberta. This growth translates into significant economic development for Alberta, including construction jobs, local infrastructure development, tax revenue, landowner income, and other associated economic impacts.
In partnership with renewable energy developers, these corporate buyers—which range from energy companies to the banking and telecom sectors—are advancing Canada's progress toward our net-zero future with cost-effective, clean energy.
A public version of the BRC-Canada Deal Tracker can be found at businessrenewables.ca/deal-tracker, while a more comprehensive look at individual deals will be available for BRC-Canada supporters.
---
---
About BRC-Canada
Established in 2019, BRC-Canada is a non-profit initiative seeking to catalyze non-utility procurement and grow renewable energy development in Canada by building a community and providing education on how corporate and institutional buyers can source renewable energy directly from project developers.
For more information contact info@businessrenewables.ca.