How BRC-Canada membership can simplify and accelerate
There is a growing trend in the Canada for corporations and institutions to purchase renewable energy directly from developers in a practice called off-site non-utility procurement. This allows buyers to meet carbon compliance requirements or sustainability targets, and has the potential to hedge electricity costs and contribute to local economic development.
Offsite non-utility procurement refers to the acquisition of off-site renewable energy, along with associated environmental attributes, by corporate entities and other non-utility buyers such as universities or government agencies. This procurement is commonly achieved by way of virtual power purchase agreements (VPPAs).
Alberta is the perfect place in Canada for such non-utility renewable energy procurement. The province is rich in natural resources, including wind and solar, with an experienced energy sector. Alberta also has a deregulated electricity market that gives buyers the flexibility to enter into contracts directly with energy developers.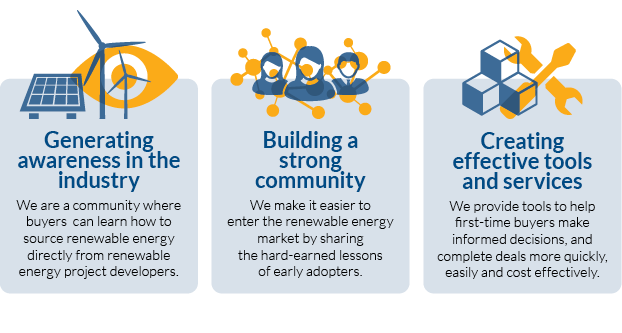 What is the Business Renewables Centre Canada?
BRC-Canada is a community where businesses can learn how to source renewable energy directly from developers. BRC Canada is a non-profit initiative seeking to catalyze the market for non-utility procurement in Canada to grow renewable energy development in the country.
The community has over 45 members — and growing. Our spring and fall webinar series regularly attract several hundred attendees from a diverse range of companies, non-profits and government or municipal  organizations.
BRC-Canada makes it easier for corporations to enter the renewable energy market by raising awareness and understanding about the procurement process and sharing lessons from active players. We publish primers and guides, host networking and training opportunities and provide access to ongoing market intelligence.
These tools, resources and guidance help first-time buyers up the learning curve so that they successfully complete their deals faster, easier, and more cost effectively.
Why should I be interested?
Community members have access to an expanding suite of benefits: tools and resources, members-only events, training and networking opportunities. Members are categorized as either buyers, intermediaries or developers at a gold or silver membership level.
Membership levels
SILVER LEVEL
Access to the members' portal and available products and tools
Access to members-only events
Some sponsorship, speaking and co-marketing opportunities
GOLD LEVEL
Access to the members' portal and available products and tools
Access to members-only events
Priority sponsorship, speaking and co-marketing opportunities
Member spotlights and case studies
Fill a seat on the BRC Canada board (if available)
| FEES | SILVER | GOLD |
| --- | --- | --- |
| Buyer member | $5,000/year | $10,000/year |
| Intermediary member | $10,000/year | $20,000/year |
| Developer member | $10,000/year | $20,000/year |