WEEK 2: Developer Perspective
June 9, 2021 11:00 am - June 9, 2021 12:30 pm MDT

-

Virtual




---
---
The second in our member-only series will build off the previous week's State of the Market session, and provide an overview of recent Canadian deals from the perspective of developers. Experienced BRC energy sellers, including BluEarth Renewables and Elemental Energy, will provide overviews of their recent deals, speak to the procurement process, and market structures, and discuss current market impacts, such as the global pandemic and jurisdiction constraints.
PANELISTS:
Nick Boyd — Chief Investment Officer, BluEarth Renewables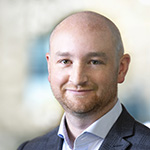 Nick is responsible for generating acquisition opportunities, negotiating key commercial agreements and partnerships, obtaining regulatory approvals. Since joining BluEarth, Nick has played a key role in numerous acquisitions of wind, hydro, and solar projects, as well as successfully completing associated project financing.
Prior to joining BluEarth in 2012, Nick worked for Union Bank where he primarily focused on Canadian project finance transactions and corporate loan facilities.
Nick holds a Bachelor of Management (Finance) from the University of Lethbridge and a Masters of Business Administration from Queen's University.
Jamie Houssian — Principal, Elemental Energy
Jamie is responsible for discovering new business and investment opportunities and setting the strategic direction of the company.
Jamie Houssian, elected to a three-year term on the Pembina Institute's board of directors in June 2020, has been in the renewable energy business since 2009 and has worked for Elemental Energy in a variety of roles since 2010, and worked at Chrysalix Energy Venture Capital before that. His first career was in the film business, where he was President and Co-Founder of The Collective Films, an award-winning documentary and commercial film production company.
Jamie holds an MBA from the University of British Columbia and a BA from the University of California, Santa Barbara.
Dale Ronsky — Director, Energy Marketing & Origination, Capital Power
Dale is the Director of Energy Marketing & Origination at Capital Power, having joined the company in 2014 in business development. He has extensive experience originating commercial opportunities and has held several roles in the energy industry, including with TransAlta and Acumen Energy. His work spans engagement with power generators, commercial and industrial energy consumers, and municipalities and energy retailers across a variety of sectors.
---
---
SPONSORED BY

---
---